For this project, you need an old jersey knit sheet, if you get a queen or larger you can get 2 shirts out of it! I spent $7.98 on my sheet at goodwill, so each shirt cost me $3.99 to make.
I loved doing this project. I'm having a ton of fun learning how to sew. I got a shiny new sewing machine for Christmas and have become pretty proficient at sewing straight lines and am slowly venturing into clothing.  I am reading and learning as I go, but for this project, it's really easy peasy as long as you are comfortable with sewing a zig zag stitch for knit/jersey fabric.
I have this top that I just love, it's a lightweight sweater knit and I realized it's only 3 pieces, a front, a back and a cowl/neck piece. No arm holes or darts or gathers or anything to deal with. The only thing that I wanted was a longer version of it to cover my bum when wearing leggings. (Love leggings, hate having my butt out for the world to see while wearing leggings!)
I also have a stash of thrifted jersey sheets laying around, (got them to learn how to sew using knits!) and it seemed like a great match 🙂
If you do have a dolman sleeve top in your closet you can use that as your sample to copy.  Otherwise, here are 2 great tutorials on how to draw out your own dolman top:
Ok, Let's get going. It took me a total of 30 minutes to make this top. I was out the door wearing it right after I made it…
Step 1: – Fold your sheet in 1/2 so the stretch is left to right. or arm to arm. (doesn't matter right or wrong sides together). Lay your top to copy on top with stretch going from arm to arm. If you don't have a top to use to copy just follow one of the 2 tutorials listed above.
Step 2: Cut out around the top leaving 5/8 seem allowance for sewing (or whatever allowance you use).  I cut 1/2 way around and leave the neck untouched (just cut around it until next step to cut neck.) I then fold it over to make the top more symmetrical when all cut. I also added significant length because I wanted something longer that would "slouch" a bit more in the top and cover my bum on the bottom.
Step 3: separate the 2 pieces and pick one to be your back. lay that down (doesn't matter if it's right or wrong side up as the curve should be symmetrical) then put the neck line of the back of the shirt matching shoulders and middle seem and cut.
Step 4: Do the same for the front neckline, which is much of a deeper curve (this is what helps the "neck" part flop down nicely.)
Step 5: Refold fabric so stretch is left to right again, then lay the neck piece on the fold. and cut, adding a seem allowance since you are sewing one end. if you don't have a neck sample to copy just measure the circumference of your neckline on the the front and back. and/2 then measure that out from the fold adding seem allowance. measure up 10 inches.
Step 6: lay out front and back right sides together and pin sides and top leaving neckline and arm holes open
Step 7: sew neck rectangle with short sides together, (sew right sides together) to form a circle. I cleaned it all up by cutting with rotary cutter first to make it all nice and even.
Step 8: with shirt inside out and right sides together place neck tube INSIDE shirt with right side facing out (so that inside both the shirt and neck piece are right sides together. ) line up the neck seam in the center back and pin all the way around. then sew.
Your done! you can finish hem lines if you want, but I left mine raw since Jersey doesn't fray.
I'm still new at writing tutorials, so any tips or feedback on this, just comment!
Link Parties! – The Train to crazy!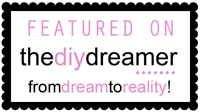 This was featured on: